There have been reports in media that Extinction Rebellion have been added to Prevent list by Counter Terrorism Police.
It's also being reported that the unit has now apologised and rowed back after exposure.
The document is titled "Safeguarding young people and adults from ideological extremism". What hasn't received the same level of publicity or outrage though, is that on page 10 animal rights campaigning is also listed as an extremist ideology.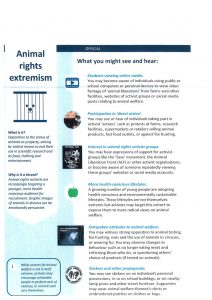 Protests, viewing the websites and social media of animal welfare groups, stopping eating meat and young people "adopting health-conscious and environmentally sustainable lifestyles" are all included as red flags for teachers and others to look out for.
This situation was highlighted a few years ago when it was discovered that authorities in Scotland were also officially categorizing animal rights campaigning as extremist behaviour.
If you're standing up against cruelty and oppression in the UK, you're seen by the state as equivalent to neo-nazis and other terrorists.